Lone Kent is an American guitarist, singer and songwriter, who has traveled the world. His father's career in the foreign service brought him to Germany (where he was born), to Vietnam, Thailand, Lebanon, Greece, France, England and Scotland, to name but a few. That's how, very young, he was able to embrace a multitude of exotic sounds and impressions.
After four years at Berklee College of Music in Boston, several years were spent touring the East Coast, performing his own material. Feeling the urge to move on, he winds up in San Francisco, making a living playing seven nights a week in a wild Fern Bar. "Learn all you can, then forget everything and just play" his teachers used to say!
"Lone Kent has travelled far with his guitars, met lots of people, and become a real expert in his art form. With a tremendous voice and fiery Rock attitude his songs sound like jewels played on any great American radio station; his natural charisma on stage is a high point we are happy to have seen."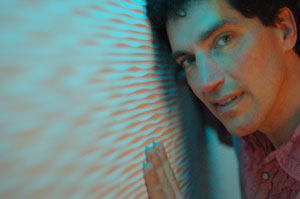 "Lone Kent has been the best surprise of the festival. His guitar playing could well have made many turn pale. He is an exceptional guitar player, who puts out the purest sounds in all of rock's grandeur."
"Rock à Nu" festival, February 8th, 2000



"... As soon as the first notes appear, it's hard not to be won over.
A minimalist band, a sound of rare purity, a captivating musical style : 'Trip Rock' (definition in my dictionary : rock, pop, atmospheres from another world made of electro sounds, the whole on catchy but often slow rhythms), and Lone Kent, clearly charismatic, has a voice which is smooth and deeply sensual.
... In other words, an excellent intimate concert, with a generous and captivating band, the whole in a club that deserves to be known..."
www.sortons.net, August 26th, 2005


True to his nomadic upbringing he moves to Europe in the eighties, and gets involved with unusual contemporary musicians: he becomes a section leader for Rhys Chatham's "100 guitars" project, with whom he tours worldwide, he plays for contemporary dance performances with Kasper Toeplitz (Chateauvallon, Beaubourg), he records and tours with experimental new music composer Hector Zazou.
These projects take him to several great international festivals (Les Tombées de la Nuit, Musica, Les Nuits Blanches…). Enriched by these different musical experiences, he succeeds in creating his own unique style.
His music reflects this absence of roots, of which he is proud. He uses a pop song format as a main vehicule, but always includes an unexpected twist that scrambles the listener's references.

"Lone Kent deserves respect in at least one sense : the man boldly ignores all concept of tastefulness, and that's not meant as a put down…
Lone Kent makes music that blends electro-pop with moody country, blues and rock tunes, resulting in an amalgam of styles that's intriguing and catchy…
This CD's worth checking out just to witness the tidy little genre Lone Kent has carved out for himself."
Las Vegas New Times, Oct 20, 1994



"Lone Kent's got a nice groove to his music. Some of the frantic guitar work (mixed way down for effect) betrays the music's tranquility, showing a dark swampy side. But all in all, melody prevails as Lone Kent's low voice presents a relaxing but alternative sound."
Gavin, San Francisco, Oct 21, 1994



"Lone Kent has created a hazardous synthesis between 'saloon songs', 'American teamster songs' like Bruce Springsteen, and specialized electro music. Lone Kent himself defines his style as 'Zen Metal', smiling, because nothing is less identifiable than his music. The electronic daydreaming softens the flames of his guitar, following the onslaughts of an exceptional drummer, and this music, though ornate, is definitely happily accessible."
La Montagne,
December 18th, 2000


Lone Kent"Oysters" is Lone Kent's third album, after "Granite and Sand" (1994) and "The Need to Know" (1999). On this new collection of songs, he has ventured further into using the recording studio as a tool, carving out each sound with surgical precision, while his lyrics reflect on politics: "Ocean", the woes of modern man: "You Know Doubt", the donwfall of ignorance: "Smarter"; or simple quirky love songs "Blind For You", "Honey I'm Home".

"His ambient rock creates a velvet climate, an atmospheric environment made of softness and quiet, where you can easily abandon yourself to the delights of hypnosis... , this captivating music, in which technology and electronics are
only there to emphasize the subtlety of his fingers, is really full of fleeting emotions."
La Dépêche, November 16th, 1999


Based now in France, he is the composer and leader of "GuitarKestra" (www.guitarkestra.com), a 12 piece guitar band. He plays with the improvised music group "Power Trio", and is a teacher and educational coordinator at "Music'Halle", a school of
"Musiques Actuelles" in Toulouse.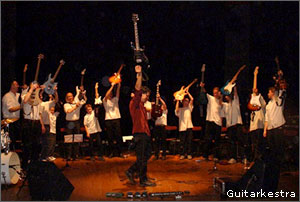 "Lone Kent is really off the beaten tracks. Neither rock, nor country, nor blues, nor jazz, he offers an elegant mixture of all these styles… His compositions are as subtle as his fingers are nimble…"
Rock&Folk, Jean-François Vaissière,
March 1994



" … Lone Kent belongs to the sound researcher clan: multi instrumentalists catalysing their daily craziness in strange test tubes. Country, fusion ?
Ambient rock ? It'll take a smart one to label the musical ethics of this exceptional guitarist, who writes his staves on the margin of all conventions.
Basically calm and soothing, 'Granite and Sand' is a successful first album, promising, innovative and sensitive, from the beginning to the end…"
Guitares et Claviers, Frédéric Lecomte, May 1994